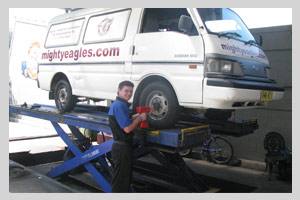 4WD Specialists
We offer an experienced 4WD specialist to fully cater to your 4WD needs.
Going on a 4WD Trip? Just returning from a 4WD excursion?
See Beachwheels 4WD for all your 4WD servicing.
We provide Servicing, Tuning, Brakes, Clutches, Tyres, Batteries, Air Conditioning and we are also Diesel Specialist's.
• Pink Slips
• Blue Slips
• Green Slips
Beachwheels Automotive has the only Weigh Bridge on the Northern Beaches. We are open 5 and half days, Loan Cars are available on request and we offer pickup and delivery. Beachwheels is located close to Warringah Mall and Transport. Contact Gavin for any enquiries on (02) 9905 1727.