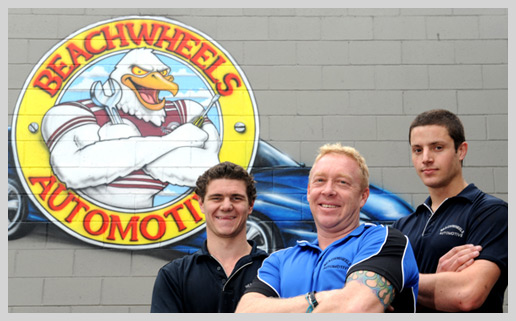 Company History
Beachwheels Automotive have been servicing the Northern Beaches for more than 25 years. Adrian Stanford and his son Gavin have progressed from having local service stations to now having a successful workshop and coach charter business in Freshwater.
Beachwheels Mission Statement
"Beachwheels Automotive is a family owned business and we strive for customer satisfaction through our honesty and integrity and our reputation in our local community."
Beachwheels Vision
To provide award winning service as the market leader in Automotive service and coach charter to the greater Sydney.
Beachwheels Services
We at Beachwheels are now firmly settled in our new premises at 16 Waine Street, Freshwater New South Wales. Our services include:
Truck Engine and Under-body Wash
RTA Approved Weighbridge
Diesel Pump and Injector Service
Petrol Injector Service
4WD Specialist
Heavy Vehicle Hoists
Pink, Blue and Green Slips
Tyres
Brakes
Clutches
Manufacturers Handbook Servicing
Safety Restraint Fitting Station
Our facilities enable us to service all vehicles from the family car to 4WD's and heavy vehicles including trucks and buses.
Beachwheels Coaches can offer many varied tours and we specialise in Seniors Trips. Beachwheels Coaches can provide transport for your next function, day trip or weekend away.
Beachwheels Values
Commited to excellence in customer service
Value and respect your colleagues
Develop and utilise the capabilities of our staff
Effective utilisation of available resources
Know your client – deliver excellent value
Continued growth and improvement
Use the best person to deliver the best result
Maintain honesty and integrity in our practices
Never compromise our professional integrity
Be recognised as an employer of choice assuring our ability to attract and retain exceptional staff
Continue to enjoy the respect and recogition of our peers, guaranteeing an enviable client base and continued
opportunities for growth
Maintain community support through sponsorship and commitment to the local community
Contact us on 9905 1727 for further information.