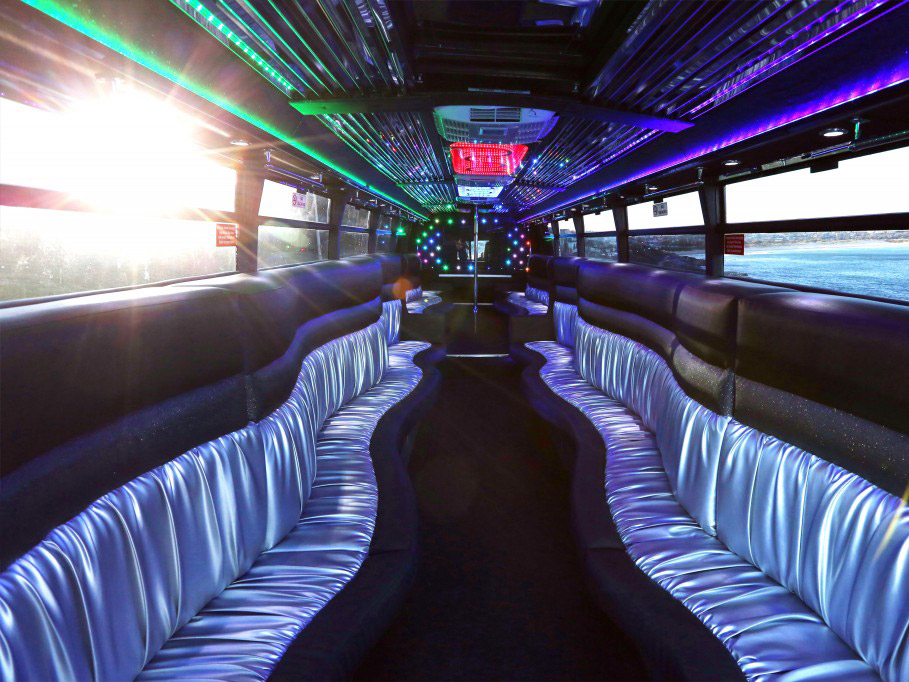 So, you and your friends are ready to take on the town. Maybe it's your birthday/anniversary/hen party/divorce celebration – whatever it is and wherever you're going, why not make it one of the coolest nights ever? Like, ever.
You could do the usual and have everyone hop in their cars, meet at one place, caravan to the next, nobody talking to each other on the ride, and everyone having to show total restraint so they can safely drive from place to place. Are you bored yet?
Enter, the Limousine Party Bus.
What's a Limo Bus, you ask? It's the coolest ride you'll ever have. Seriously. This thing pulls into your driveway, and the neighbours will think you've totally hit the big time and are touring with Beyoncé. You and your squad hop on board, pop your bottle(s) of champagne and raise your glasses in a toast, and the Limo Bus isn't even done backing away from your house.
You've got your jams playing on the surround sound system, the laser lights are going crazy, and Stacey's already dancing on the pole. Everyone you pass is trying to see in, but they can't because it's one-way glass, and you're officially knee-deep in the best night of your life.
What's on Board This Limo Bus?
What's not on board? We've decked our Limo Party Bus out so all you have to do is bring yourselves, food, and your favourite beverages – hard or soft. Take a minute to picture your car. Got the image? OK, here's what our Beachwheels Limo Bus has:
Free Wi-Fi
55-inch plasma TV
DVD
Karaoke
Red carpet on request
Complimentary water
Mobile phone charging points
Dance pole
LED lights
LED lightboxes
Mirrored ceiling
State-of-the-art sound system
Luxury lounges
Cup holders
Ice upon request
You can see why we think taking the Party Bus in Sydney is a better idea than your ride. We provide a party on wheels. If you've got a group bigger than 50, we can combine our Party Bus with our Limo Bus, and you've got yourself a travelling 100-person party. We're experienced in making your event and your transport memorable and ridiculously fun.
We'll work with any client to customise their experience so it's an adventure you and your crew will never forget. You can contact us here or call us at 02 9905 1727 with any questions or to hire a Limo Bus for your next event!